... the making of optical glass in Australia would be wasteful of war effort as it would probably take four years before a successful production could be achieved and the cost would probably be a million pounds ...
Cable from the Australian High Commissioner in London, quoted in D.P. Mellor, Australia in the War of 1939-1945: The Role of Science and Industry, Australian War Memorial, Canberra, 1958, p. 253.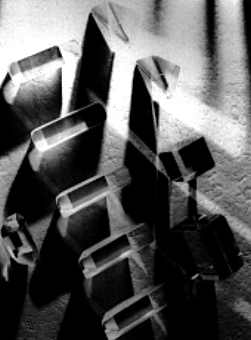 Success! - with little outside assistance, Australia's first optical glass was produced

The production of optical glass required special techniques and materials. Its manufacture had never been attempted before in Australia. The OMP asked Melbourne's Professor of Chemistry, Ernst Hartung, to investigate. He quickly established close collaboration with Australian Consolidated Industries (ACI), Australia's leading glass company.

The OMP also sought assistance from the main British manufacturer, but they were reluctant to jeopardise their potential postwar market by handing over the technology without restrictions. The British authorities were pessimistic about the Australian effort, but the OMP was determined. If they had to go it alone, they would!

Hartung and his team made rapid progress. Local supplies of suitable sands and clays were identified and valuable information was obtained from the US National Bureau of Standards. Finally on 21 September 1941, ACI produced Australia's first large-scale batch of optical glass.