---
1883 - 1966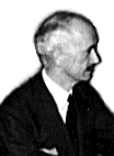 Alexander David Ross was Professor of Physics at the University of Western Australia, and was the driving force behind the establishment of the Australian Branch of the [British] Institute of Physics in 1924. He was also its Honorary Secretary for many years.
In 1939, along with T.H. Laby, Ross was instrumental in lobbying the Prime Minister of Australia, Sir Robert Gordon Menzies, on behalf of the Australian physicists, to get the Government to utilise the skills of Australian physicists in the war effort. Ross was also at the first meeting between Government officals and physicists in 1939, at which, the Government replied that their help was not needed ... yet.
Although Ross was involved with optical munitions work from the very beginning, due to the large distances involved in travel between Perth and Melbourne, he was rarely able to attend Optical Munitions Panel meetings. Ross was initally a 'corresponding member' of the Panel; he was made a full Member in 1944.
Initially, there was little opportunity for optical munitions production in Western Australia, so Ross directed the Physics Department to manufacture lens test plates, which were then shipped to lens manufacturers in the eastern states of Australia.
Binocular reconditioning and tropic proofing was also carried out by his Department, and advice was also given to local Perth firms who were contracted to make parts for the optical munitions. Later in the war, flash spotters, directors, angle of sight instruments, jungle sights and microscopes were produced in Western Australia and assembled in Ross' laboratory.
Ross was also instrumental in arranging for his Department to repair and calibrate the optical instruments from any ships in port at Fremantle - including the instruments from Australian, American, British and Dutch ships.
After the war, amongst other things, Ross founded the Pan-Indian Ocean Science Congress comprising fourteen countries. He also established a strong reputation for research in vacuum spectroscopy and optical astronomy.
---





---
Published by the Australian Science Archives Project on ASAPWeb, 30 April 1997
Comments or corrections to: Bright Sparcs (bsparcs@asap.unimelb.edu.au)
Prepared by: Denise Sutherland and Elissa Tenkate
Updated by: Joanne Evans
Date modified: 4 January 1998
---
Top | Bright SPARCS | ASAPWeb