HMM Newsletter - Number 10, March 1996 ISSN 1036-3041
HELP WANTED
DO YOU HAVE AN INVALID'S WICKER BATH CHAIR?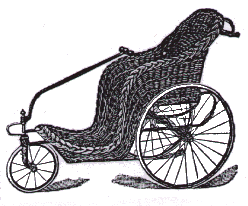 Mary MacKillop Place in Sydney is looking to borrow one.
Commemorating the life and achievements of Australia's first saint, Mary MacKillop Place has many individual exhibits, representing various facets of her life. For a new exhibit about Mary MacKillop's latter years, the museum needs to borrow a wheelchair similar to the kind that Mary MacKillop used after she suffered a stroke. Photographs taken during those years show her in a wicker bath chair.
If you think you may be able to help, please contact the curator, Fiona Mohr at:
Mary MacKillop Place
PO Box 1081
North Sydney NSW 2059
Ph. (02) 954 9688
Fax (02) 929 0140
---
Published by the Australian Science Archives Project on ASAPWeb, 12 June 1996
Prepared by: Lisa Cianci and Lisa O'Sullivan
Updated by: Elissa Tenkate
Date modified: 18 September 1997
---
[ Top of page | HMM Home Page | HMM Newsletter Contents | ASAPWeb ]