Rescue plea on-works
By CHERYL CRITCHLEY,education reporter
MORE than half Australia's universities don't know how much their museums and collections are worth, a report has found.And it estimates that the 256 facilities could fetch a total of up to $1 billion.The review Cinderella Collections, commissioned by the Australian Vice-Chancellors' Committee, says many museums and collections are being neglected.The report calls for a Federal Government funding boost of $5million over five years to deal with the most urgent cases.It also wants better management and recognition of the museums' importance.The report found the facilities varied greatly in quality, with shrinking funds largely to blame for any neglect."Even if all the committee's recommendations were acted upon immediately, there would still be a huge backlog of work that would need to be overcome before most university museums and collections could be regarded as approaching adequate industry standards," the report said.Victorian universities have 47 museums and collections. They cover art, housing, antiques, artefacts, teaching documents, research, geography, biology and culture.Melbourne University tops the list with 16.A survey of 25 per cent of museums and collections found only 40 percent of universities had had the material valued."A realistic sum for the total value of all material in Australian university museums and collections may be between $500 million and $1 billion," the report said.Storage was also a problem, affecting 70 percent of collections.
Priceless medical treasure trove
By PAUL DOWSLEY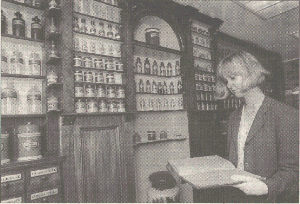 Worth saving: Lisl Bladin in the Medical History Museum. Picture Ian Stevenson
THE University of Melbourne's collection of medical antiques, including the inside of a 150-year-old English pharmacy, is invaluable, according to the museum's curator.But Prof. Harold Attwood could not estimate the value of displays in the university's Medical History Museum, a problem which was identified in the Cinderella Collections report released yesterday."It's never properly been done," Prof. Attwood said.One of the museum's prized features is the English Pharmacy, which operated in London from the 1850s until 1968."It was shipped to Melbourne and reconstituted accurately as far as its dimensions go," he said.He said that while some objects such as old specimen jars and fittings were worth hundreds of dollars, a price for the whole pharmacy was virtually impossible to estimate.The museum also held ornate display cabinets which dated back to 1880, surgical instruments from the 1820s and a collection of more than 30 antique microscopes, he said."Many of those items are priceless," Prof. Attwood said. He said a lack of funding for the museum meant it had no permanent attendant and no board of management."The Medical History Museum is funded for one day a week for myself and two days for a secretary," he said. He said another employee, Lisl Bladin, also worked at the museum as an archivist and cataloguer.