HMM Newsletter - Number 10, March 1996 ISSN 1036-3041
HMM (VICTORIA) PROGRAM OF MEETINGS FOR 1996
Thursday 2 May
Polio: its past, present and eradication by the year 2000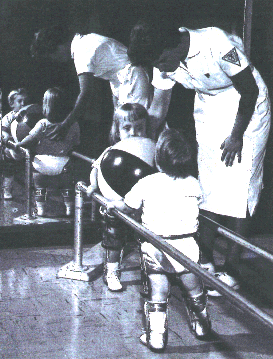 A talk and film on the history of poliomyelitis world-wide, hosted by Marjorie Kennett (Senior Scientist at the Victorian Infectious Diseases Reference Laboratory at Fairfield Hospital and Director of the National Polio Reference Laboratory and the WHO West Pacific Region Reference Laboratory for Polio) and a demonstration of the use of the electron microscope during which participants will be able to view the polio and other viruses with John Marshall (Electron Microscopist at VIDRL).
Refreshments will be available. There is wheelchair access to the building and parking in close vicinity.
Fairfield Hospital, Yarra Bend Road, Fairfield, Melbourne. 6.00 pm
RSVP 26 April 1996
Saturday 8 July
Workshop on exhibition display.
To be held at the headquarters of the Australian and New Zealand College of Anaesthetists, St Kilda Road, Melbourne. The day will commence with a presentation on the history of anaesthesia and a tour of the Geoffrey Kaye Museum of Anaesthetic History.
HMM members and all interested persons welcome
To RSVP or make enquiries about meetings in Victoria, please contact Barbara Wright
Tel. (03) 9280 2539 or (03) 9457 5823
---
Published by the Australian Science Archives Project on ASAPWeb, 12 June 1996
Prepared by: Lisa Cianci and Lisa O'Sullivan
Updated by: Elissa Tenkate
Date modified: 18 September 1997
---
[ Top of page | HMM Home Page | HMM Newsletter Contents | ASAPWeb ]