Diary Dates
NEW SOUTH WALES
MM Annual General Meeting
Never let it be said that national HMM Annual General Meetings are dull affairs - business is dispensed with as quickly as possible so that we can enjoy our guest speaker. All HMM members will shortly receive a notice of the 1998 AGM, to be held in Sydney during September. This year's meeting will include election of the HMM National Committee (held every two years), but since nominations are not taken from the floor no one who attends need worry about being dobbed in unexpectedly.
Maritime medicine
The 1998 end-of-year outing for NSW members and friends of HMM takes place in Darling Harbour. We will be visiting the National Maritime Museum for a talk and tour focusing on aspects of medicine and the sea, followed by a festive afternoon tea. Once again we will be joined by our friends and colleagues from the NSW Society of the History of Medicine. The date is Saturday 5 December 1998, 1.30 - 4.30 pm.
WANT ADVANCE NOTICE OF WHAT HMM DOES IN NSW?
All members of HMM in NSW are registered on a mailing list to receive notices about coming events organised by the NSW branch of HMM. There are usually four of these events each year and they include workshops, seminars, talks, and visits to health and medicine museums and other relevant heritage sites. Usually they are held in Sydney but some recent outings, such as those to Campbelltown and Newcastle, have been further afield. We are planning a visit to Canberra in 1999.
If you do not live in NSW but think you might be able to attend some of these outings, you would be very welcome. Just contact the editor of this Newsletter and ask to be added to the NSW mailing list.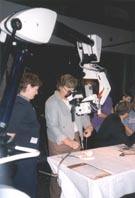 HMM committee member Joy Yarad tries her hand at a spot of
microsurgery during The cutting edge: surgery today. This
exciting public program was held at the Powerhouse
Museum in Sydney in May 1998. It was jointly organised by
the museum and the Royal Australasian College of
Surgeons. Held over four days it attracted thousands of visitors.
A pox on Sydney
A cruel epidemic of smallpox hit Sydney in the early 1880s. Doctors and politicians were caught off guard, while the Vaccine Centre at Hyde Park Barracks fought a losing battle against public apathy. The exhibition The horror within explores one aspect of the rich history of Hyde Park Barracks - the period when the Vaccination Institution was housed there between 1857 and 1886. Told against a backdrop of global epidemics and the perennial spread of disease, the display is divided into two categories: the warfare waged against the body by disease-causing agents and the different types of armour deployed for defence and protection. It runs from 6 July 1998 to 4 July 1999.
Entry to museum $6 ($4 concession). Open 7 days, 10am - 5 pm. Enquiries to curator:
Gary Crockett
Hyde Park Barracks Museum
Queens Square, Macquarie Street
Sydney NSW 2000
Tel. 02 9223 8922
Editor's note:
At the risk of labouring the point, it is worthwhile noting that once again HMM members have provided material for an exhibition with a medical theme. Contributors to The horror within include the Museum of Human Disease at the University of NSW, Prince Henry Hospital Museum, the Royal Australasian College of Physicians and the Powerhouse Museum.
You will also be interested to know that your NSW committee is planning an official outing to The horror within for HMM members at the invitation of curator Gary Crockett.
---
VICTORIA
'Feminine industry' exhibition
Day and night, through the wards, operating theatres, treatment rooms, nurseries and outpatients departments, the industry of nurses powers the hospital, the health service and patient care. The exhibition Feminine industry: nursing work at the bedside and beyond brings into focus this hive of nursing activity. Through an exploration of the themes of patient observation, hygiene and asepsis, interventions, transport and technology, it examines Victorian nursing work over the past one hundred and twenty years.
Curated by Sioban Nelson, this exhibition at the Medical History Museum at the University of Melbourne runs from 22 June until late November 1998. All enquiries to:
Lisl Bladin
Archivist, Medical History Unit
University of Melbourne
Parkville VIC 3052
Tel. 03 9344 5719
ICOM'98 Conference
For the first time ever, the triennial conference of the International Council of Museums is to be held in Australia. It runs from Saturday 10 to Friday 16 October at the Melbourne Convention Centre and has the theme 'Museums and cultural diversity - ancient cultures, new worlds'. Dr Sue-Anne Wallace, the President of Museums Australia Inc., has written, urging members to attend. It is, she emphasises, an event of major significance to museum professionals throughout Australia. Special Interest Group members will have many opportunities to network with relevant international committees or groups.
Registration forms and further information on ICOM'98 can be obtained from Noelene Galloway on 03 9651 6783, or at Conference Australia Pty Ltd, Level 3, 128 Exhibition Street, Melbourne VIC 3000.
Museums Australia Inc. conference 1999
Next year's Museums Australia conference will be held in Albury-Wodonga, on the border of NSW and Victoria, from 5 to 9 May. Keep these dates in mind, because HMM is planning to have a presence at this conference.