---

'People sometimes think that I and the others worked on penicillin because we were interested in suffering humanity. I don't think it ever crossed our minds about suffering humanity. This was an interesting scientific exercise, and because it was of some use in medicine is very gratifying, but this was not the reason that we started working on it.' [1]
---




Howard Walter Florey is best known for his work on penicillin, but there is much more to this famous Australian scientist. He was a solitary man, with few close friends; laboratory research and travel were his great loves. Interestingly, he was concerned about the population explosion caused by improving health care.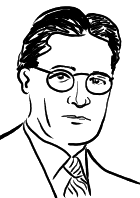 Born in Adelaide, South Australia, on 24 September 1898, Howard Florey was the youngest of five children and the only boy in his family. His father was a bootmaker and ran a successful company.
At school Florey was nicknamed 'Floss', a name that stayed with him for life. He was an outstanding student, excelling at almost everything - except mathematics.
In 1917, and with a research career in mind, Florey began studying medicine at the University of Adelaide. He won a Rhodes Scholarship in 1921, and left Australia for Oxford University and to make his home permanently overseas.
'Well, the Adelaide course in those days was very good, and then [in 1921] I got a Rhodes Scholarship, it was actually before the end of the medical course, and went straight off to Oxford. I think even in those days, I thought it was highly improbable that I'd ever come back to Australia.' [2]
Florey's boundless ambition and ability, as well as his strong character, were immediately obvious to his British colleagues:
'A fire seemed to burn within him, and his many-sided character was never concealed. We could all see the power in him and wondered whether he would ever find the right outlet for his greatness. This was the beginning of a remarkable career and he was very determined to succeed.

'He could be ruthless and selfish; on the other hand, he could show kindliness, a warm humanity and, at times, sentiment and a sense of humour ... at times, he went out of his way to cut people down to size with some very destructive criticism. But I must also say that in the years I knew him he did not once utter a word of praise about himself.' [3]
Once at Oxford, Florey conducted a survey of naturally occurring antibacterial agents. He was convinced that somewhere in nature there was an element that would destroy germs. Initially he worked on lysozyme, an enzyme occurring naturally in egg white, human tears and saliva which acts as a mild antiseptic by destroying the cell walls of some bacteria.
In 1924 Florey took a two-month holiday from his work and joined the Oxford University Arctic Expedition as its Medical Officer. This expedition undertook various scientific work, including terrain mapping and microstudies of ice-caps and crystals. It was also the first arctic expedition to use an aeroplane as a mode of transport. The aeroplane did crash, and Florey treated the slight injuries of the pilot and the team leader, George Binney.
In 1929 Florey and his colleague, Dr Ernest Chain, came across a paper titled, 'Antibacterial Action of Cultures of Penicillium' written by Alexander Fleming some ten years earlier. This paper detailed the antibacterial effects of a mould called Penicillium. Noting the properties and potential of Penicillium, Florey and Chain decided to focus their research on this mould.
Their Oxford research team discovered how to produce an effective and safe antibacterial agent from the raw mould juice and designed mass production methods - painstaking and extremely difficult work. Fleming, Chain and Florey were jointly awarded the Nobel Prize in Physiology or Medicine 1945 for this work.
Unfortunately, Florey's home life was not as successful as his professional life. His wife, Ethel Reed, was a fellow Australian who had studied medicine with Florey at the University of Adelaide. Following Florey's move to Oxford, they maintained a five-year correspondence. During this time Florey developed a romanticised ideal of Ethel.
In 1926, despite her misgivings about their relationship, Ethel sailed for England, and they married soon after her arrival. Almost from the start it was an unhappy marriage, as the real Ethel rapidly supplanted the imagined one:
'... for Howard it was the shattering of every romantic fantasy. His sole emotional outlet from that point and for many years was to be his work.' [4]
Ethel suffered from a number of serious health problems, and later became deaf, which made her life (and temper) difficult. During the Second World War, their two children, Paquita and Charles, were sent to Canada for safety. Meanwhile, Ethel assisted her husband with the clinical trials of Penicillin. Despite the difficulties, they remained married, perhaps providing some support to each other in their isolation from Australia and their families.
Science was the most important part of Florey's life. He spent most of his career at Oxford University, becoming Provost of Queen's College in 1962. He was knighted in 1944, and made Lord Florey of Adelaide in 1965, in recognition of his scientific achievements.
Florey was elected the first Australian President of the Royal Society of London in 1960, and was known as 'the Bushranger President'. He was Chancellor of the Australian National University from 1964-66, although he remained in England. He liked being able to be involved with this new Australian university, without actually having to be there all the time. Florey was also one of the founding fathers of the John Curtin School of Medical Research, at the University.
Ethel Florey died in 1966. In June 1967, Florey married Dr Margaret Jennings, his long-time colleague and friend. Here he found a happy marriage, but it was tragically brief. Florey died suddenly, less than a year later, on 21 February 1968, aged 69.
---
Footnotes
[1] de Berg, Hazel, Transcript of Taped Interview with Lord Howard Florey, 5 April 1967, National Library of Australia, Canberra, p. 9 of 15.
[2] Ibid., p. 3 of 15.
[3] Sir Alan Drury, Personal Communication Cambridge 1970, cited in Bickel, Lennard, Rise Up To Life: a biography of Howard Walter Florey who gave penicillin to the world, Angus and Robertson, London, 1972, p. 24.
[4] Macfarlane, Gwyn, Howard Florey: the making of a great scientist, Oxford University Press, Oxford, 1979, p. 145.
---
Published by the Australian Science Archives Project on ASAPWeb, 18 December 1997
Comments or corrections to: Bright Sparcs (bsparcs@asap.unimelb.edu.au)
Prepared by: Denise Sutherland and Elissa Tenkate
Updated by: Elissa Tenkate
Date modified: 19 February 1998
---
Top | Bright Sparcs | Australian Nobel Laureates | ASAPWeb |