---




The Government formed a 'Rabbit Commission' whose task was to assess entries for the prize and provide adequate means to enable the experiments involved. Dr O. Katz was appointed as Chief Expert Officer to oversee the conducting of experiments.
The first task of the Rabbit Commission was to find a suitable location where a laboratory could be established. An island infested with rabbits was considered the ideal option and Rodd Island, situated in Iron Cove at the western end of Sydney Harbour, was chosen.
Rodd Island had been a reserve for public recreation since 1879. However, it did not take long for it to be transformed to fulfil its new duties as an experimental station. The scrub was cleared and buildings constructed in two months! The buildings comprised a four-room laboratory, a kitchen, and living quarters - all made of corrugated iron with double walls packed with sawdust. An enclosure (35 metres long and 28 metres wide) was built, and included stalls, pens and even concrete rabbit burrows! The whole of this enclosure was covered with fly-proof gauze.
[click on map for magnified view and access to individual building maps]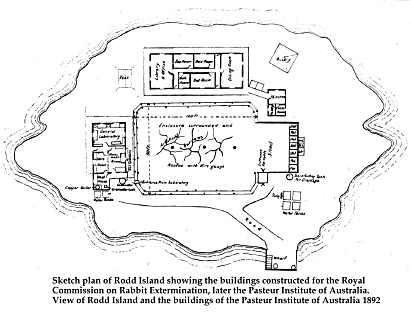 Picture Reference
Map of Rodd Island, cited in Chaussivert, Jean, & Blackman, Maurice (eds), Louis Pasteur and the Pasteur Institute in Australia, The French-Australian Research Centre, Occasional Monograph No. 1, NSW University Press, Kensington, 1988, p. 11.
---
Published by the Australian Science Archives Project on ASAPWeb, 5 December 1997
Comments or corrections to: Bright Sparcs (bsparcs@asap.unimelb.edu.au)
Prepared by: Guillaume Mallet and Denise Sutherland
Updated by: Elissa Tenkate
Date modified: 19 February 1998
---


Top | Bright Sparcs | Pasteur in Australia | ASAPWeb