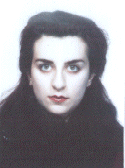 Lisa Cianci was born in Melbourne in 1969. In 1989 she completed a Bachelor of Arts degree in Painting from the Victorian College of the Arts, Melbourne. In 1993 she completed a Post Graduate Diploma in Archives and Records Management from the University of Melbourne. Lisa's work consists mainly of painting and drawing on paper and fabric. Her themes usually cover representations of the body using self-portraiture and personal imagery. She has exhibited in several group shows in Melbourne and a solo show in Sydney. Lisa is a professional Archivist and is currently employed by the Australian Science Archives Project, University of Melbourne as Project Manager.
'Letters to M', an exhibition at the Linden Gallery, 26 Acland St, St Kilda, 14-31 August 1997.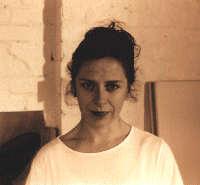 Peta Cross was born in Ulverstone, Tasmania, in 1961. In 1982, she completed a Bachelor of Arts degree from the University of Tasmania, then studied nursing, completing in 1985 and travelling abroad for several years after that. In 1992, Peta graduated from the Victorian College of the Arts, Melbourne, with a painting major. Since graduation, she has had three solo exhibitions and her work is held by both corporate and private collections, and the National Gallery of Victoria.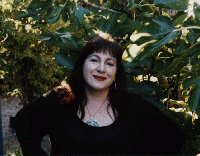 Antoinette de Morton, born in Adelaide, completed her degree in Fine Arts at Phillip Institute, Melbourne, in 1990. She received the Phillip Institute Council Achievement Award and a Victorian Ministry of the Arts Project Grant. Antoinette has exhibited widely, including the Swam Hill National Print and Drawing Exhibition and the International Works on Paper Exhibition at the State Library of New South Wales in 1995. She also sings Jazz and Blues, and performs regularly with the San Jacinto Stompers. She has also performed at many festivals, including the Melbourne International Festival. Antoinette currently lives and works in Melbourne.
Nola Farman in an independent artist who works in an interdisciplinary way. Her work engages with the daily intersections between Art, Science and Technology, and how they may be used and encountered in unexpected ways. The structures and forms are at times permanent and at others temporary. For example, 'The Subterranean Listening Device' uses seisometric technology and is located in the Mundaring Sculpture Park in Western Australia. Another work, called 'The Heart of the Matter', used ultrasonic radar and was exhibited in contemporary art galleries.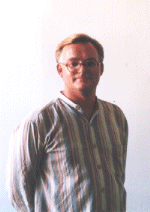 Adrian Jones is an artist based in Perth, Western Australia. His work is sculpture and installation based, and draws from specific historical sources to express contemporary ideas about the past. The Suspect Relic - Europeans in Tasmanian Aboriginal History (1984) and The Death of Four British Anthropologists (1985) both explored narratives of the European history in Australia. Recent Works have been focussed on the exploration of specific individuals, such as The Nature of (Non) Material Evidence (1993) which was about the biographical nuances of Australian musician Percy Grainger, and was exhibited in the Grainger Museum in Melbourne. Since 1991 the artist has used ideas arising from these temporary projects to undertake permanent works, commissioned for public places in and around Perth.


David Nugent and Kate Murphy are both Canberra based artists who have produced a collaborative piece entitled Networks within Networks for the Cabinet of Curiosities. David is currently in his final year as a sculpture student at the ANU Instutute of the Arts and Kate is a recent graduate of the same institution.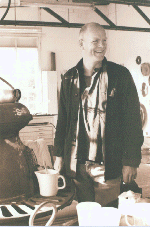 Born Melbourne, 1954. Lives and works in Queanbeyan, NSW (near Canberra).

Trained as a glassblower in the late seventies and early eighties in Australia and Sweden. Since the mid-eighties, has worked primarily in sculpture and installation, including drawing and photography. Over fifteen solo exhibitions since 1977 in Australia and overseas, and involvement in many collaborative and group exhibitions (especially Anzart in Auckland, 1985; 4th Australian Sculpture Triennale, 1990; Osaka Triennale (Sculpture), Japan, 1995). Inaugural ACT Creative Arts Fellow (Visual Arts), 1995. Public commissions include Floriade (Canberra), 1990, Adelaide Festival, 1992 and ACT Magistrates Court, 1997. Represented by Gitte Weise Gallery, Sydney.

David Watt was born in Paisley, Scotland 1952 and arrived in Australia in 1965.Studied at the South Australian School of Art 1977-80 and at the University of Tasmania 1983-84. Currently Head of Sculpture at the Australian National University Canberra School of Art. Has exhibited work in national and international venues and is represented in numerous public and private collections.