After being farewelled in Canberra on 26 February 1997, the Cabinet of Curiosities travelled to Madeira to rendezvous with the replica Endeavour. The Cabinet was loaded aboard, and travelled in the Great Cabin of the Endeavour on the last leg of its voyage to Britain, arriving in the Thames on 25 April 1997. Greg St John and myself joined the ship as it sailed back downstream from Tower Bridge to dock at Greenwich.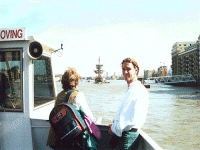 Ahoy there... Greg St John sights the Endeavour off the starboard bow as the ferry carries us along the Thames, under Tower Bridge, to board.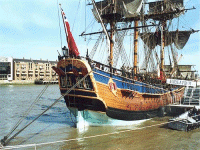 Avast there and prepare to be boarded...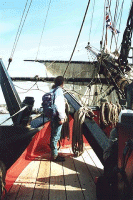 As I try to avoid getting in the way of the crew, Greg looks remarkably at home aboard ship.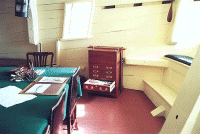 After a bit of exploring below deck we found the Cabinet proudly sitting in the Great Cabin.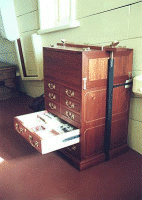 Note the ropes at the sides, lashing the Cabinet in place - it really did travel on the high seas!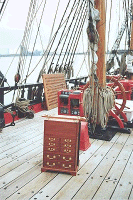 Ready for unloading, the Cabinet was brought ashore after the Endeavour docked at Greenwich.