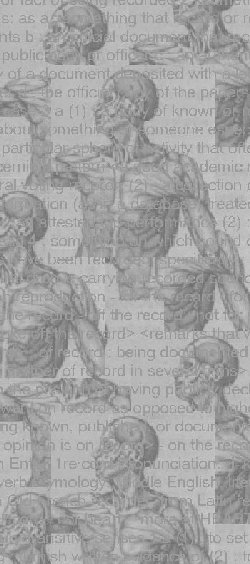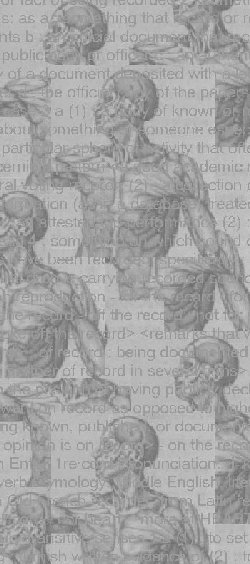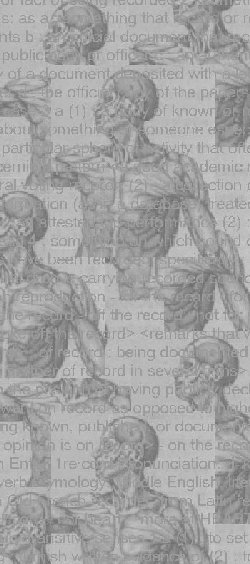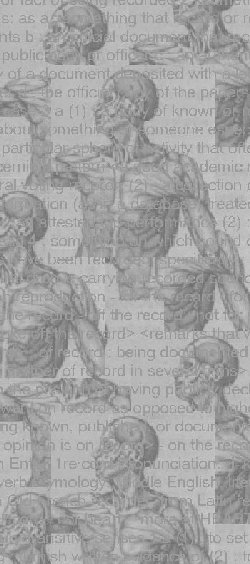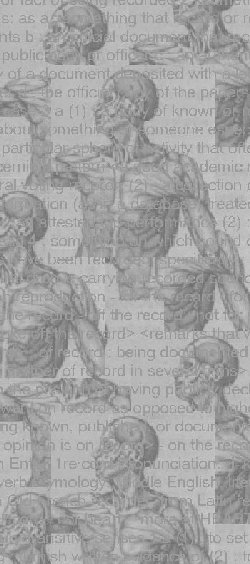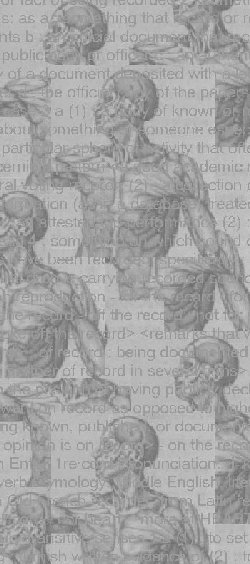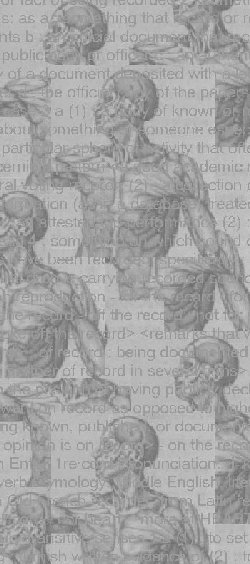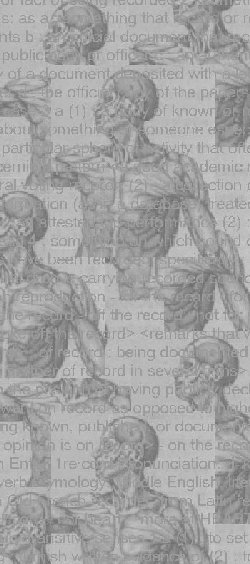 ---
Have your records
been doctored?
New imperatives for health and
medicine recordkeeping
---
Speakers
---
Warwick Anderson

History and Philosophy of Science Department, University of Melbourne


Warwick Anderson lectures in the History and Philosophy of Science Department, University of Melbourne, and is the Acting Director for the Centre for the Study of Health and Society. After practising as a general practitioner for a number of years, Warwick completed a PhD in the history of medicine in the United States, and taught in the area for a number of years at Harvard.


---

Graham Giles

AntiCancer Council of Victoria
preserving records for research purposes

In this talk Dr Giles will draw from his experience of research using the medical records of cancer patients. In discussing specific projects as examples, he will illustrate the importance of retaining certain forms of medical records particularly in regard to the identification and validation of personal attributes and exposures (voluntary and iatrogenic), and linkage information that locates other pertinent source documents and archival materials including human tissue.

Dr Graham Giles has worked extensively in Cancer, Nutritional and Genetic Epidemiology, and works with the Anti-Cancer Council of Victoria. His current programs include a Melbourne Collaborative Cohort Study (Health 2000) prospective study of lifestyle (diet) in 42,000 Melbournians and migrants from Italy and Greece; a 4,000 man case-control study of the avoidable causes of prostate cancer; a case-control family study examining gene-environment interactions in the risk of prostate cancer; the development of databases to audit the genetic testing and management of families with multiple cases of cancers of the bowel, breast and prostate; and to coordinate and facilitate research on cancer genetics.

---

Caroline Hannaway

Historical Consultant to the National Institutes of Health
Designing Medical Archive Programs in the United States

Dr Hannaway will be speaking on the design, collecting approaches, and activities of several medical archive programs in the United States, using as examples the Johns Hopkins Medical School and Hospital, the National Library of Medicine, and the National Institutes of Health in Bethesda, Maryland

Caroline Hannaway received her B.A. (Hons.) from the History and Philosophy of Science Department at the University of Melbourne and her Ph.D. from the Johns Hopkins University in Baltimore. She edited the Bulletin of the History of Medicine for eleven years while a member of the faculty of the Johns Hopkins Institute of the History of Medicine and she was Director of the Francis C. Wood Institute for the History of Medicine of the College of Physicians of Philadelphia. She is currently involved in a project to document the response of the National Institutes of Health to the AIDS epidemic.


---

Bronwyn Hewitt and Robyn Waymouth

Professional Archivists, Women's and Children's Health Care Network
Have your records been doctored? What's the prognosis?

This paper, which concentrates on administrative records, aims to report on issues confronting archivists and records managers in a sample of Victorian hospitals and the implication of these for efficient administrative practices. It is also hoped that any problems which may emerge as a result of this study will be brought to the attention of, and further investigated by those in a position to take action.

Robyn Waymouth and Bronwyn Hewitt are professional archivists employed by the recently formed Women's and Children's Health Care Network. This Network includes the Royal Women's and Royal Children's Hospitals where they have been employed (respectively) for the past six years. Both hospitals are large public institutions which date from the 19th century and have in-house archives collections which include artefacts, films, photos and ephemera as well as archival documents. Bronwyn is also the archivist at the Walter and Eliza Hall Institute (an ASAP project) and the Royal Australian and New Zealand College of Psychiatrists.


---

Gavan McCarthy

Director, Australian Science Archives Project
Medical records: looking for long term solutions in an age of 'quick fixes'

Mr McCarthy will be giving a broad overview of issues to be looked at, including questions about sampling records; the potential impact of changes in hospital administration on record keeping practices; looking at importance of records other than clinical, and ones created outside institutional structures (eg the records created by GPs).

Gavan has been leading ASAP since its inception in 1985, a position that has consolidated an interest in the history and archives of science, medicine and technology in Australia, first stimulated through contact with records in the area at the University of Melbourne Archives in the late 1970s.

One of Gavan's major areas of interest has been the development of computer database tools for handling archival information and this this has led to the creation of ASAP ADS - ASAP's Archival Data-management System - which is a comprehensive set of data structures and functions that can be used to handle the wide variety of collections and projects that come under the work of the ASAP.




---

Josephine Raw

Royal Womens Hospital
Electronic Patient Records: Solving or Creating the Problem?

In the paper Ms Raw will describe various methods of achieving electronic records and will discuss the strategies which need to be in place before electronic records are introduced. She will describe electronic record applications within Australia and the United States, and some of the issues associated with these systems.

Josephine Raw is the Coordinator, Health Information and Patient Services for the Women's & Children's Health Care Network. Her major areas of responsibility are Health Information Services at each hospital, which incorporates core medical record department activities as well as the secretarial centres.


---

John Snowden

Solicitor, Phillips Fox
legal aspects of records management

Mr Snowden will address the uses and value of medical records in the litigation setting, and associated questions around their retention. His talk will draw on his extensive experience in the health law area.

John Snowden is a partner with Phillips Fox, a large national law firm. He has been practicing in the health law area for over twenty years and is a remember of a fifteen lawyer health industry team which represented the majority of Melbourne's metropolitan hospitals and a wide range of other health care institutions.


---

John Harley Warner

Professor of the History of Medicine and Science and Professor of American Studies, Yale University
The Uses of Patient Records by Historians: Patterns, Possibilities, and Perplexities

In this talk Prof. Warner will briefly sketch the remarkable growth of interest among historians during the past decade and a half in using patient records in exploring medical experiences and perceptions of the past, and will explain some of the historiographic forces that have informed this historical research activity. Drawing examples from studies that employ what are variously called clinical case histories, clincial charts, and patient notes, he will stress the variety of uses to which patient records are being put and how the historical questions being asked are shaped and constrained by the nature of the archival record that has been preserved. He will also emphasize the historian's reliance on other kinds of texts and images--including other archival medical records--in order to extract historical meaning from these documents.

John Harley Warner received his Ph.D. degree in the history of science from Harvard University in 1984 and, after two years as a postdoctoral fellow at the Wellcome Institute for the History of Medicine in London, joined the faculty at Yale University, where he is now Professor of the History of Medicine and Science, based in the medical school, and Professor of American Studies. In addition to articles on the history of professional culture, clinical medicine, and ideals of science in medicine in the United States, Britain and France, his publications include THE THERAPEUTIC PERSPECTIVE: MEDICAL PRACTICE, KNOWLEDGE, AND IDENTITY IN AMERICA, 1820-1885 (Harvard University Press, 1986; paperback edition with new preface, Princeton University Press, 1997), and AGAINST THE SPIRIT OF SYSTEM: THE FRENCH IMPULSE IN NINETEENTH-CENTURY AMERICAN MEDICINE (Princeton University Press, in press for fall 1997). With support of a grant from the Burroughs Wellcome Fund, he is starting an historical study of the clinical practice of writing, focusing on the epistemological, aesthetic, and moral choices involved in the transformation of the patient record in the United States.


---

Doris Young

Head of the General Practice Unit, Department of Public Health and Community Medicine, University of Melbourne
medical records in clinical practice

At this conference, Dr Young will address the issues relating to 'medical records in clinical practice'. Specifically, she will present the following:
1. current format of the medical records used in general practice.
2. use of the medical records by general practitioners and other interested parties.
3. importance of keeping a 'good' medical record.
4. problems identified regarding the current medical records.
5. some possible strategies for improvement.

Associate Professor Doris Young is Head of the General Practice Unit, Department of Public Health and Community Medicine, University of Melbourne. She has been involved in medical undergraduate and postgraduate education and general practice research for over ten years and is a practising general practitoner. She is also a Council Member of the Medical Defence Association of Victoria.