No. 35, December 1995 ISSN 0811-4757

Edited and published by Tim Sherratt (Tim.Sherratt@asap.unimelb.edu.au) for ASAP.
---

Journal of Syms Covington
Edited and annotated by Vern Weitzel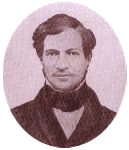 A recent addition to ASAPWeb is the annotated Journal of Syms Covington. Covington, who was eighteen years old when he began keeping this journal, was Charles Darwin's assistant on the second voyage of the H.M.S. Beagle, 1831-1836. Darwin was himself only 22 when he employed Covington using a portion of the allowance he received from his father! The Journal not only provides a new perspective of the journey which helped stimulate Darwin's theory of evolution, but also includes accounts of Covington's daily duties. These included finding food for Darwin at each port of call, and his impressions of lands and people encountered over five years of voyaging in the New World, from the 'naked Indians' of Terra del Fuego to the citizens of Sydney, about whom Covington writes: 'Here a stranger must take care with whom he associates, as the place consists principally of convicts, or the most notorious characters of England; and a place I must say I was heartily happy to leave'.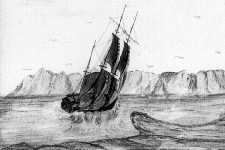 HMS Beagle at the entrance to the Santa Cruz River - sketch by Syms Covington
Despite his misgivings, Covington and his Journal arrived back in Australia in 1840, when Covington emigrated to New South Wales. He was soon married to an Australian woman from Stroud, and became Postmaster of Pambula on the South Coast in 1854, where he remained until his death in 1861.
The Journal was transcribed and annotated by Vern Weitzel (ANU), using the original copy held in the Mitchell Library. ASAP's WWW developer, Victoria Young, has turned Vern's work into a fascinating on-line experience, incorporating many of Covington's own sketches. Vern's work was previously unpublished, and provides a good example of the way the WWW can be used to make your research accessible to the world!
---
[ Contents | Previous article | Next article | HAST | ASAPWeb ]