HMM Newsletter - Number 11, December 1996 ISSN 1036-3041
ANNUAL REPORT 1996 HEALTH AND MEDICINE MUSEUMS
Special Interest Group of Museums Australia Inc.
President's report to the 7th Annual General Meeting held at Sydney Hospital on Wednesday 30 October 1996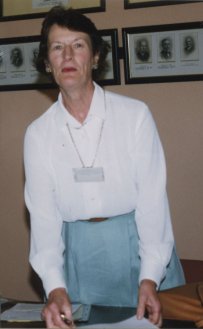 Founding President of HMM, Janice Bate, delivers the President's Annual Report to the AGM on 30 October.
(Photograph by Ian Cope)
History of HMM
On 19 April 1990 a proposal for a medical museums network within the Museums Association of Australia (MAA), put forward by a small group of interested MAA members, was supported unanimously by representatives from health and medical museums, professional associations, organizations and individuals invited to a special meeting, held at the Brownless Medical Library at the University of Melbourne.
Approval was granted for a Health and Medicine Museums Section by the Federal Council of the MAA and on 11 October 1990 the interim committee held the inaugural meeting to establish the section and to elect a committee.
The constitution and structure set in place gave a solid framework and much has been done over six years to achieve the aims and objectives.
MAA has now become Museums Australia and HMM a Special Interest Group with modifications to the constitution.
The National Committee has continued to be based in Melbourne, with responsibility for the membership list, the register of collections, receiving subscriptions, co-ordination of the newsletter and an annual meeting.
Gradually state chapters are forming to arrange local activities, workshops and visits and the gathering of interested people to meet and co-operate.
Annual General Meetings have been held in Canberra, Adelaide and Hobart as well as in Melbourne. This meeting in Sydney has historic significance as Victoria passes on the responsibility for the National Committee and Secretariat to New South Wales.
It is done in anticipation of a release of new energy and ideas and with the best wishes of the outgoing committee.
Annual General Meeting 1995
Last year the Annual Meeting was held at Melbourne Grammar School after a talk on a beautiful summer evening across the Domain, in the Herb Garden of the Royal Botanic Gardens. A Gardens Guide, Mr David Piper, presented an excellent paper on the history and medicinal quality of herbs as we sat and then walked among the collection of these fragrant plants.
National Committee
The committee remained in office as elections have become biennial. Ms Hilery Belton and Dr Rod Westhorpe were co-opted and have strengthened the committee.
Megan Hicks representing NSW, Philip Thomson, Tasmania and Margaret Thompson, ACT have been generous in attending meetings in Melbourne and their contribution has been invaluable. For Philip and Margaret their journeys will now be to Sydney.
Barbara Wright who has been a long serving and active member, upon whom we depended particularly for activity arrangements, moved to Sydney and so is geographically placed to assist the incoming national committee.
Register of health and medicine collections
HMM has been able to provide lists of health and medicine museums and collections in Australia to the Australian Museums Information service (AMIS). These museums will be added to the AMIS database of collections in Australia.
We were also able to provide a list of health and medicine museums for a survey of museums in New South Wales being undertaken for the NSW Ministry of the Arts.
Newsletter
Two issues of the excellent newsletter were produced during the year with stimulating articles and news from members. Their contributions are eagerly sought. Copies are posted to all members and now, thanks to Lisa O'Sullivan, who assists in its compilation, the newsletter is also available at the Australian Science Archives Project site on the Internet.
LibraryA collection of publications relating to health and medicine museums is gradually accumulating and Jeremy Graham will gladly receive material.
Commonwealth Serum Laboratories
Two visits have been made to the 19th century Jennerian building housing the story of CSL in the structure as well as the furniture and museum objects. The committee has been concerned about the projected separation of the collection from its historic home as well as the fate of the building. hmm has actively lobbied to see the building and collection saved. Victoria could face the loss of another little known treasure.
Activities in Victoria
Fairfield Hospital and polio
Not long before Fairfield Hospital was to close, we were their guests to hear the unfolding of the history of poliomyelitis. Senior Scientist, Dr Marjorie Kennett, the Director of the National Polio Reference Laboratory and the WHO West Pacific Region Reference Laboratory for Polio, through her talk and film made very clear the important role of Fairfield in the attempt to eradicate polio throughout the world by the turn of the century.
Dr John Marshall allowed us to view live polio viruses through the electron microscope.
Exhibition workshop at the Geoffrey Kaye Museum of Anaesthetic History
The museum at the Australian and New Zealand College of Anaesthetists is situated in a fine historic property and we were treated to a day of history and the latest in exhibition techniques for its presentation.
Dr Rod Westhorpe gave us a beautifully constructed illustrated talk on 150 years of anaesthesia and then showed us the museum for which he has been responsible.
An exhibition designer, Mr Stephen Roberts, shared his insight into planning and designing exhibitions of excellence. He showed methods of display, provision of effective text and labeling and gave us hands on experience of using tools and materials.
Activities in New South Wales
Workshop on exhibition development
This full-day workshop in July was well attended and very successful. Thanks go to Ms Cate Smith and Ms Kay Soderlund from Museums Australia (NSW) for an excellent and helpful presentation, and to the New South Wales College of Nursing for providing the venue.
Taking precautions
hmm members were joined by Science and Technology students from the University of New South Wales for a talk on the history of contraception by Dr Ian Cope, followed by a tour of the Taking precautions exhibition led by curator Ms Megan Hicks, at the Powerhouse Museum in April.
Networking
In her capacities as curator at the Powerhouse Museum and hmm committee member and newsletter editor, Megan Hicks has been able to provide information about hmm to people all over Australia and put people working on related projects in touch with each other. Several small museums are currently attempting to systematize their record-keeping and it is evident that there is a need for a standardization of a system for documenting health and medicine collections.
Finale
With the cessation of the national responsibility by the Victorian committee I thank members some of whom have been serving hmm for seven years for their ideas, industry and time. The range of their talents and skills has been inspiring and suggests that we have a very special Special Interest Group.
Janice Bate Retiring president
---
Published by the Australian Science Archives Project on ASAPWeb, 20 March 1997
Prepared by: Lisa Cianci and Lisa O'Sullivan
Updated by: Elissa Tenkate
Date modified: 18 September 1997
---
[ Top of page | HMM Home Page | HMM Newsletter Contents | ASAPWeb ]