ASAP ADS has been developed over a decade of on-site archival work for a wide variety of clients. It began as a manual system of documenting records using ASAP's archival methodology, which has been the foundation of our success. Developed by Gavan McCarthy, the earliest ASAP ADS involved completion of data sheets for Inventory, Series and Provenance descriptions which were then word processed into electronic files, from which guides and finding aids were produced.
Figure 1
ASAP ADS Entry Screen
In the late 1980s, the database technology that was beginning to emerge as off-the-shelf software products enabled the development of the ASAP ADS as a database system. The ASAP methodology and structure of archival documentation was adapted by Gavan McCarthy to produce the first ASAP ADS database in dBASE III+. This greatly increased the possibilities of the ASAP ADS as it allowed the user to process great amounts of records relatively quickly, to conduct complex searches of the database, and to manipulate the data to produce a variety of reports, guides and finding aids. The ASAP ADS now had the ability to process, catalogue and manage sets of records of practically any size, in a cost-effective and comprehensive manner.

ASAP ADS' system can work to as much detail as required, from broad surveys of record holdings to individual Inventory level descriptions. It can also deal with collections that may contain a variety of record formats and artifacts.

Increasingly sophisticated demands have been made upon ASAP ADS. In 1995, the package was transferred from dBASE IV into a Microsoft Access platform. This provides more user-friendly features and results in considerably faster data processing times.

Technological advances have enabled the formation of products and solutions that were only visions a few years ago, and 1996 has seen the ASAP ADS continue its development to include a variety of new features, including:

a Report Manager (for producing a wide variety of reports and creating custom ones);
new collection profiling features;
a new and improved Loans and Locations Manager;
an Inventory Filler for speedy Inventory processing;
keyboard assignment (hotkeys);
an indexing function for hardcopy guides and finding aids;
customised searching functions; and
imaging links.
In terms of records processing and searching, the ASAP ADS has become faster and more user-friendly than ever before. The ASAP ADS software and methodology document record content, context, continuity and structure to enable the maintenance of integrity and enhance accessibility. Records documented in this way form the foundations of corporate knowledge, organisational memory and evidence of achievement.

The great diversity of projects undertaken by ASAP has shaped the formation of the ASAP ADS, and Joanne Evans has taken on the role as the ASAP staff member responsible for the development of ASAP ADS.

ASAP's research and development program has recently been recognised as a leader in the field of archival management systems with the award of an Australian Research Council Collaborative Research Grant to further the evolution of the ASAP ADS.
Figure 2 illustrates the relationships between the information stored in the Accession, Series, Provenance and Inventory tables in the ASAP ADS. In addition to these main tables, which manage the intellectual control over a set of records and provide a mechanism for finding Inventory records, other tables record Locations, Loans, Users, Profiles, Indexes, Customised Processing Options and Searching Aids.
ASAP ADS is currently available in several versions, which range in processing capabilities. For example: the ASAP ADS used in the Generation Victoria project has all key term and searching facilities, security login features, and links to data imaged on CD-ROM; the ASAP ADS used at the CSL Plasma Products Facility has a 'locations' tracking facility; and the most simple version is used by ASAP staff on scoping projects and contains only Accession, Series and Provenance data.
Figure 2
Relationships between tables in ASAP ADS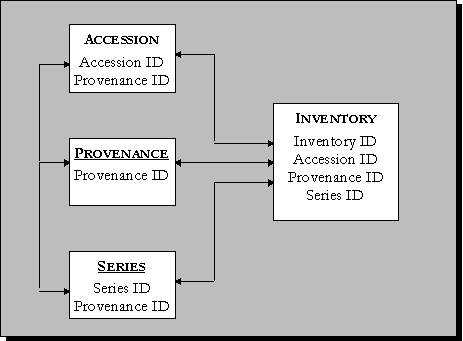 The ASAP ADS has always been a combination of archival methodology and technological tools. The ASAP ADS employs the latest in database and computer technologies to ensure that archival issues presented by each archival project are addressed. The output from ASAP ADS is flexible enough to ensure that data can be easily transferred to systems used by such bodies as the Australian Archives and the Public Record Office of Victoria. ASAP ADS can also be used to produce attractive and easy-to-use hard copy reports, guides and multimedia publications. Conversely, ASAP ADS can also receive data from existing computer-based file registry systems or similar databases to ensure the integration of all archival records.
ASAP ADS already makes use of many technological developments such as:

the latest in relational database technology;
links to scanned/imaged records on CD-ROM or file server;
use of barcode technology for speedy records processing; and
production of records profiles and statistical information using latest profiling and charting technology for effective management of records.
Development avenues for the ASAP ADS currently include:

use of digital cameras and other imaging technology for documenting records and artifacts in situ;
further network, intranet and internet development;
automatic generation of HTML files for use as electronic finding guides on ASAPWeb or client WWW sites; and
further refining of the methodology to include the documentation of 'function' as a distinct entity. Presently 'function' is documented as part of Provenance and in other descriptions of records context.
ASAP's work in developing WWW access to archival information has also raised a number of important questions for the future role of archives. Bright Sparcs is, in itself, a unique endeavour, integrating archival, biographical and bibliographical information sources to provide a multifaceted research environment. The implications of such WWW-based resources have been explored by Tim Sherratt in a series of conference presentations over the past eighteen months. In addition, ASAP has been involved in national efforts to coordinate the dissemination of Australian archival information through the WWW.

This is an area that ASAP will continue to monitor and explore, and one which, interestingly, seems destined to merge with ASAP ADS development, as ASAP develops the capacity of ASAP ADS to deliver archival information within a variety of formats.