Staff and Accommodation
In 1996, ASAP became aware of the need to improve the delineation of functions and provision of support facilities within the whole of ASAP. These considerations led to a number of changes in ASAP's administrative structure. Specialised positions were created in publications and marketing, and computer support, and an administration unit was created to provide support for our staff and clients.

Gavan McCarthy, formerly Chief Archivist, has been formally appointed as the Director of ASAP - a recognition of his leadership in the growth and success of ASAP. Professor Rod Home, ASAP's Founding Director, has become the Chair of ASAP's National Advisory Board. Both he and Professor Bert Bolton, the retiring Chair, continue to provide invaluable support and advice to ASAP. This year also saw Tim Sherratt appointed to the new position of Deputy Director and, in this role, Tim remains the driving force behind the development of ASAP's information services. Joanne Evans and Lisa O'Sullivan have been made Assistant Directors, of Projects and Archival Systems, and Finance and Human Resources, respectively.
ASAP Melbourne's move to 203 Bouverie Street, Carlton, in June 1995 presented some administrative solutions and challenges. The space provided, while not offered as long-term accommodation, has provided ASAP with enough quality space to satisfactorily establish the basic infrastructure it requires to function as a viable organisation.

Thanks to the efforts of Christopher Jack and Carey Potter, shelves were installed in ASAP Melbourne's 'Archives Repository', the Library and the Projects Room. This shelving enables the systematic storage of ASAP's administrative and project management records and provides a reasonable quantity of storage for archival records while they are being documented. Other infrastructure development that was required to make the space safe and useable included some recarpeting, installation of network wiring and telephones, purchase of a photocopier, fax and other office essentials.

ASAP Melbourne also needed to create autonomous links with The University of Melbourne, now that it was no longer directly under the wing of the Department of History and Philosophy of Science. Imbi Neeme, our Administrative Officer, successfully forged alliances with many different departments and has thus ensured that the renovation and on-going maintenance that comes with having ASAP's own office can be dealt with as efficiently as possible. Imbi left ASAP to travel and work overseas in the middle of 1996 and has been most ably replaced by Annette McLeod.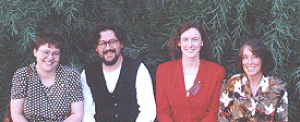 ASAP Canberra Staff
L - R: Denise Sutherland, Tim Sherratt,
Elissa Tenkate, Rosanne Walker
In ASAP's Canberra office, taking on more work and more people placed considerable pressure on our space at the end of the Adolph Basser Library - for a short time Tim was forced to camp in one of the Library's book bays! Fortunately, an office became available downstairs in Becker House, and ASAP was able to move in. As well as being slightly larger, this office is much more congenial (it has windows!).

In July 1995, ASAP installed a direct Internet connection and a Sun Netra Internet server in the Canberra Office. Not only did this allow ASAP to establish its own dedicated WWW site and email services, it greatly improved the Canberra Office's access to the Internet. In November 1996, the server was transferred to Melbourne to come under the caring gaze of Robin Stephens, ASAP's Computer Support Officer.
Andrea Barnes
The past year has seen Andrea continue her work in a variety of areas within ASAP including collections, research, and survey and scoping projects for the power generating companies and other client organisations. Andrea has worked on several scoping projects (including Loy Yang Power Ltd and J.H. Willis records), undertaken collection projects (such as ATSE and J.S. Turner) and continued to assist Bronwyn Hewitt one day a week at the Walter and Eliza Hall Institute. Andrea has also assisted in the on-going Royal Australian Chemical Institute project. Her background in science and archival experience made her the perfect choice for The University of Melbourne Research Records Project, where she researched and developed guidelines for the creation and maintenance of records for the School of Chemistry. Andrea departed ASAP in December to cycle her way around the world.
Daniel Cass
Daniel began working for ASAP part-time on the A.D. Butcher Collection and Willsmere Museum/Archives project. He departed ASAP in December to take up a position with Scienceworks (Victoria).
Lisa Cianci
As ASAP's Project Manager, Lisa continued her responsibilities for the management and organisation of the day-to-day issues of archival projects and small collection work. Specific projects include Kew Asylum Museum/Archives, Royal Australian Chemical Institute, Hazelwood Power Station Archives/Morwell Mine Archives, Southern Hydro and the personal records of G.W. Leeper, J.S. Turner, D.W. Goode and the Le Souef Family. Lisa has an interest in the records of artists and art galleries - especially in regard to how artists accumulate records and how they use the records of others for research and reference. In November 1996, Lisa became involved with Tim Sherratt's Cabinet of Curiosities project. As a visual artist, the Cabinet of Curiosities became an opportunity for Lisa to bridge the gap between her archival work at ASAP and career as an artist.
Barbara Cytowicz
Barbara began working with ASAP as Archivist on the ESIRU scoping project with Dani Zephyr. She then worked on various scoping projects, including Loy Yang Power Ltd, Loy Yang Project and Newport Power Station. In between trips to the La Trobe Valley, Barbara has also worked on the Pigment Manufacturers of Australia Ltd collection - a small project which requires her to wear protective gloves so that she doesn't turn blue or red from the pigments covering the records! Barbara is currently completing a Masters in Archives and Information Management at RMIT.
Lisa Enright
Lisa continued as the Senior Project Archivist for the Generation Victoria project. She has a special interest in electronic records and is currently developing ASAP policy in this area. Lisa is an ASAP Research Fellow and has almost completed her thesis on the documentation of legacy electronic records systems for her Masters in Archives and Records Management at Monash University.
Joanne Evans
Joanne lead the Generation Victoria project for twelve months before becoming Assistant Director, Projects and Archival Systems. She is currently responsible for the development of our ASAP ADS (formerly Gavan's domain) and its transition into Microsoft Access. Joanne's background in science, industry and information technologies have all been invaluable in dealing with a project as large and complex as Generation Victoria, and now the management of ASAP. She is well armed to deal with the diversity of projects that she now coordinates. Joanne is also an ASAP Research Fellow.
Robert Hartland
Robert has continued as Project Archivist at CSL Bioplasma Broadmeadows. He is currently working part-time at CSL while he completes his Masters in Archives and Records Management at Monash University and tutors in his chosen field of study.
Bronwyn Hewitt
This year saw Bronwyn continue her excellent work at the Walter and Eliza Hall Institute of Medical Research - only one of her archival jobs (she is also the Archivist at the Royal Children's Hospital, Melbourne, and the RANZ College of Psychiatrists). Her work for ASAP at WEHI will continue as there is still much to be done.
Christopher Jack
Chris began working with ASAP on the Generation Victoria project as part of a Melbourne processing team. He has progressed from there to become one of our Project Archivists - a position better suited to his archival experience and qualifications. Over the past year Chris has worked on several scoping projects, has also coordinated the Yallourn Due Diligence project (alias Project Franklin), undertaken some small collections in between the scoping projects (such as RACI), and he is currently the Project Archivist for the Loy Yang Project.
Guillaume Mallet
Guillaume was originally employed in ASAP's Canberra office on a casual basis to assist with the maintenance of our WWW server and to develop a new search interface for Bright Sparcs. In March 1996, Guillaume was offered a six month contract to continue this work. He has developed considerable expertise in the development of WWW resources, particularly in creating and maintaining indexing systems. His work was of great value to ASAP and underlined our need for a full-time computer specialist. Guillaume departed ASAP in November 1996 to return to France.
Gavan McCarthy
As ASAP's Director, Gavan remains the inspiration and driving force behind ASAP, although his role is hard to define because he has such a variety of demands on his time and expertise. Of late his services have been called upon by many in international archival and scientific communities.
Annette McLeod
Annette joined ASAP as the Administration Officer for the Generation Victoria project. She had the unenviable task of maintaining order for such a large project and has proved adept at keeping track of staff as they travelled to and from the La Trobe Valley. Annette became ASAP's Office Manager in June, most ably replacing Imbi Neeme.
Paula Montesano
Paula began working with ASAP on one of the Melbourne teams for the Generation Victoria project. Also a qualified archivist with a science background, she has become an ASAP Project Archivist and has worked on various small projects like the records of D.W. Goode, G.W. Leeper and the Le Souef Family. Paula has continued to do archival work, such as appraisal and disposal for the second round of the Generation Victoria project, and is currently undertaking a scoping project for the SECV Shell group.
Helen Morgan
Previously employed as a Casual Archivist/Researcher at the RMIT Fashion and Textile Design Resource Collection, Helen is our newest Archivist - she began working for ASAP in May. Helen has worked on the SECV Personnel Records (Scoping Project) and the Loy Yang Power Project and, since August 1996, she has been the Melbourne Archivist for the Generation Victoria project. Before calling herself an Archivist, Helen considered herself a freelance Art Historian and Researcher and continues to work one day a fortnight in the Fine Art Department, The University of Melbourne, as a Research Assistant to the Deputy Head of the Department - an association that she is keen to continue. She has a Masters in Art History and is currently completing her Postgraduate Diploma in Archives and Records Management at RMIT.
Jo Mushin
After working as part of a Melbourne team for the Generation Victoria project, Jo continued with Generation Victoria by becoming the archivist with the task of working on Provenance and Series descriptions. Sadly (for ASAP), Jo Mushin left in February to go travelling abroad. We hear she is currently having a marvellous time in Europe.
Imbi Neeme
Imbi was ASAP's first entirely 'administrative' staff member, and as our Melbourne Office Manager, she was responsible for the day-to-day running of ASAP Melbourne. Imbi was ASAP's frontline person for all inquiries and kept all of us organised. She developed many internal records management systems and forged many important links with key University staff. Unfortunately, administration was not challenging enough for Imbi, who has a background in literary and performance theory, and she jetted off to the USA and Europe in June 1996.
Michelle Novacco
This year, Michelle continued in her role as the archivist in charge of appraisal and disposal for the Generation Victoria project- a very challenging task. Her work as the Morwell Project Archivist for Generation Victoria has been invaluable. We were all very sad when Michelle left us for the New Mexican desert at the end of June. She never did get that collection of her own to work on, and we believe she will be curating an exhibition on the history of fast food restaurants in New Mexico somewhere in the near future.
Lisa O'Sullivan
This year, Lisa has performed many varied and valuable roles within ASAP. She was our Melbourne Projects Coordinator and Manager for some time, dealing mainly with financial planning and human resource management. Following Victoria Young's departure in February, Lisa transferred to ASAP's Canberra office where she took on a slightly different role as Development Officer for our online resources and information services. This allowed Lisa to broaden her skills by working on WWW development and she took over most of the consultancy work for the Australian Academy of Science. Following this secondment, Lisa returned to Melbourne to become Assistant Director responsible for Finance and Human Resources.
Tim Sherratt
Since establishing the Canberra Office in 1993, Tim Sherratt has been responsible for the development of ASAP's internationally recognised information services, in particular ASAPWeb and Bright Sparcs. A historian by training, Tim is always keen to promote interest in the history of Australian science - speaking and writing for a wide variety of audiences. In 1996, Tim was appointed ASAP's Deputy Director, and invested considerable effort in developing ASAP's research program.
Karl Slotte
Karl Slotte is a casual employee in ASAP's Canberra office and has been working on the bibliography of the history of Australian science.
Denise Sutherland
Denise Sutherland joined ASAP as a casual employee in the Canberra office in April 1996. As our WWW Resource Developler, she undertakes various tasks associated with Bright Sparcs, in particular the development of online exhibitions and teaching resources. This year, Denise was instrumental in the design of new ASAP business cards, letterhead, and a new STAMA logo. She wrote an article on Amalie Dietrich that was published in Australiasian Science (Summer 1996), and is currently developing The Giant's Eye: The Optical Munitions Exhibition and the Bright Sparcs Users' Guide and Teachers' Guide which will be officially launched in 1997.
Robin Stephens
Robin joined ASAP in November in the newly formed position of Computer Support Officer in November 1996. Answering the many and varied calls for help is only a small part of what Robin does. Also included is the general administration of ASAP's web server, backups, networking, searching for and investigating new technologies that may be appropriate to ASAP, developing computing standards to be used throughout the organisation, amongst other tasks.
Elissa Tenkate
Elissa joined ASAP's Canberra Office in August 1996 as Publications and Marketing Manager, a newly formed position. Elissa is responsible for ASAP's public image, including the development and implementation of a public relations program, marketing support materials and coordination of the content and maintenance of ASAPWeb. Elissa's activities this year have focused on standardising ASAP's written communication, both internally and externally, and processing a backlog of publications for ASAPWeb. She has a BA in History and Social Research Methods from the Australian National University, and brings to ASAP a wide variety of editorial, publishing and administrative experience in the public and private sector.
Rosanne Walker
Rosanne Walker continued working two days a week as ASAP's Canberra Archivist. After completing Jock Marshall's records, she updated the data in the ASA Directory of Archives in Australia. Following the completion of most of Canberra's collection-based work, Rosanne has now formally become the Registrar for the core Bright Sparcs and Directory of Archives in Australia databases.
Victoria Young
As the Canberra Resource Developer, Victoria made many valuable contributions to ASAP's online resources, quickly developing expertise in the development of WWW resources and contributing much to the working of the Canberra Office. Unfortunately Victoria was lured away from ASAP Canberra by a cadetship with the Department of Foreign Affairs and Trade and left in February. We are very grateful for her enthusiasm and support and wish her all the best in her new career. Of course, we expect Victoria to appraise us of ASAP expansion opportunities in regions where she is posted!
Other Staff
| | | |
| --- | --- | --- |
| Mary Abbott | Donna Huizer | Stan Morgan |
| Honie Bradtke | Eddy Janeczek | Marita Muller |
| Kevin Caulfield | Natasha Kamenev | Beryl Nelson |
| Sonia Cianci | Azita Khademy-Deljo | Hilde Rinia |
| Claire Dougherty | Bianca Lowe | Lorna Risol |
| Owen Griffiths | Kara Morgan | Danielle Zephyr |
Consultants
Richard Gillespie (Kew Asylum Museum/Archives)
Bruce Smith (Hazelwood Power Corporation Records Management)