Information Services
Guides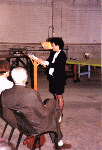 Ditta Bartels launches the four ASAP Guides at Scienceworks.
The personal records of Australian scientists have always been of fundamental interest to ASAP. On the 15th of December 1993 four ASAP Guides were launched by Dr Ditta Bartels at the Pumping Station, part of the Museum of Victoria's Scienceworks complex in Spotswood. These were highly-detailed guides to the papers of Sir Frank Macfarlane Burnet, Lawrence Percival Coombes, Philip Crosbie Morrison, and Albert Lloyd George Rees. These guides were the first to begin to take advantage of our new streamlined processing system, which allows data to be easily transformed into a desktop publishing format. As a result they provide attractive, easy to use finding aids to these important collections, which are likely to be of great value to researchers.
Unfortunately, although such detailed Guides are very important to ASAP, they are extremely labour-intensive, and therefore often difficult to fund. In view of this, ASAP has made a commitment to building up a Supporters Fund which will eventually provide a pool from which money can be drawn to ensure that 'at risk' collections of importance are saved. We look forward to the time when we make decisions about work on collections based purely on their historical significance.
Recovering Science
Considerable work has been put into the organisation of papers given at ASAP's Recovering Science Conference in 1992 by Lisa Jooste and Tim Sherratt in the Canberra office. These are currently in the process of being published, and include contributions from a broad spectrum of disciplines including archivists, curators, scientists and historians. All examine aspects of the notion that science, and the records of science must be re(-)covered:
recovered - identified, saved from destruction, processed and preserved
recovered - reclaimed as an integral part of our history and society
re-covered - re-examined in order to explore what science is, and how it impacts upon our society
HASN
The History of Australian Science Newsletter remains an important focus for activity in the history of Australian science and technology. Its not-too-serious mix of news, reports, reviews and features provides interesting and entertaining reading for its many and various recipients. Subscriptions have now topped the 1300 mark. The comments we receive make it clear that HASN generates considerable goodwill towards ASAP, and it must remain one of our core activities. HASN is produced entirely by the ASAP Canberra Office.
Two major developments in the production of HASN have occurred in the past year. The first is that we now produce two issues per year, rather than three, in March and August. This change has numerous benefits in terms of efficiency, and has enabled us to increase the content of each issue. Inserts and flyers can also be included much more easily than before. To utilise the increased space, the editor is seeking out correspondents from the various sectors that HASN reaches. Already, Richard Gillespie (Scienceworks) has agreed to provide a regular museums column.
The second major development is that HASN is now published electronically, thanks to cooperation between the ASAP Canberra Office and the Coombs Computing Unit of the RSSS, ANU (see ASAP On-line Services for further information). Currently plain text versions of the last three editions can be accessed via Anonymous FTP, Gopher or WWW. In addition, in May 1994 the first hypertext edition of HASN was made available on-line. This edition of HASN No.32 includes photographs, graphics, and links to related resources and documents.
ASAP on-line
The most exciting development in ASAP's information services in the past year has been the development of a site on AARNet, enabling us to make a wide range of resources available world-wide through the Internet. This has been made possible by cooperation between the ASAP Canberra Office and the Coombs Computing Unit of the Research Schools of Social Science and Pacific & Asian Studies, Australian National University.
The service began operation in July 1993, when ASAP information documents, an edition of HASN, and the text of the Guide to the Archives of Edwin Sherbon Hills, were converted to plain text format and made available through the Coombspapers (anonymous FTP) and Coombsquest (gopher) facilities. Later, further editions of HASN were added, as well as the guides to the records of Macfarlane Burnet and Lawrence Percival Coombes.
In March 1994, this electronic publishing outlet was complemented by the establishment of an email-based forum, Hist-Aust-Sci-Tech-L. This forum enables information to be distributed rapidly, and encourages discussion and cooperation between researchers in the field. There are currently around forty subscribers to the list.
Most recently, ASAP has begun developing resources for the World Wide Web (WWW), an Internet-based information system that operates through a network of inter-linked hypertext documents. A History of Australian Science and Technology home page has been set up that provides access to all of ASAP's on-line resources (including a hypertext edition of HASN No. 32), as well as to other useful facilities around the world. This provides a starting point for all researchers in the history of science and technology. Future plans include a link to RASA (Register of the Archives of Science in Australia) and an on-line version of the 'Australia's Scientific Heritage' exhibition. A considerable amount has been achieved in a year, and if development is continued ASAP will play a leading role in the provision of electronic information on the history of science and technology world-wide.
Bright SPARCS
In 1993, the ASAP Canberra Office developed an ambitious plan for the long-term development of resources for education and research in the history of Australian science and technology. This is known as Bright SPARCS (Scientists Present in Australia's History Resource CD). Bright SPARCS will build on the foundation provided by RASA to provide a comprehensive information package incorporating biographical data on a large number of Australian scientists, a detailed bibliography, photographs, sound clips, and descriptive stories.
An outline of the project has been distributed to curriculum authorities and other interested groups and the response has been very favourable. However, funds have not yet been found to enable developmental work to commence.
While it is envisaged that the Bright SPARCS package would be made available on CD-ROM, the focus of the project is on the resources themselves, rather than the means of distribution. Material developed as part of Bright SPARCS could be made available in a wide variety of forms - as books, study kits, resource cards. Ultimately, it is envisaged that Bright SPARCS would be accessible on-line through the Internet.
Bright SPARCS has the potential to make a significant impact on public understanding of our scientific and technological heritage, and will enable ASAP to consolidate its position as the leading information provider in this area. Continued effort is required to find the necessary funding.
Outreach
Articles describing the work of ASAP have appeared in the Australian and New Zealand Physicist, FACETS Newsletter, the Australian Geologist, the Australian's Higher Education Supplement, and the Australian Academy of Science Newsletter. A review of the Guide to the Records of Edwin Sherbon Hills was recently published in Archives and Manuscripts. In addition, Tim Sherratt provides regular biographical stories about Australian scientists for the Australasian Science magazine, published by the University of Southern Queensland Press. This magazine is widely distributed amongst secondary schools, and is available in most newsagents. Recent subjects have included Jean Macnamara and Macfarlane Burnet.
In March 1994, the ASAP Canberra Office prepared a submission for the Centenary of Federation Advisory Committee, outlining the significance of Australia's scientific and technological heritage, and suggesting ways in which public access might be developed. It is hoped that ASAP will be able to play a role in the proposed celebrations.
ASAP is always keen to strengthen its links with museums, archives, libraries and scientific and cultural organisations around the country. In the past year discussions have been held with a wide variety of institutions including: National Museum of Australia; National Film and Sound Archive, Australian National University; Australian Cultural Development Office; Australian Dictionary of Biography; National Library of Australia; Australian Academy of Science; Australian Academy of Technological Sciences and Engineering; Australian Archives; Public Records Office of Victoria; Royal Australian Chemical Institute. The development of the Bright SPARCS proposal has also brought us into contact with teachers' groups and curriculum authorities. Relationships of this kind enable ASAP to pursue its objectives much more effectively.