Staff and Accommodation
The activities of ASAP Canberra have been greatly enhanced by the employment of Victoria Young to act as a resource developer for our WWW resources. She and Tim have dedicated much of their time to the development of ASAP Web. On the archival side, Rosanne Clayton continues to ensure that collections of value are not lost. With three staff, ASAP Canberra has reached the limits of the Basser library site. Their "virtual presence" on the World Wide Web, however, continues to expand.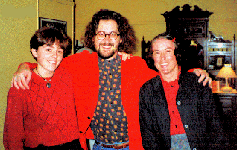 Victoria, Tim and Rosanne: ASAP Canberra
The space situation in Melbourne became critical this year, with only two offices dedicated to the Project on campus, and our projected move to Queensberry Street shelved indefinitely. Our Director, Rod Home, donated the use of his office to Gavan McCarthy while he was overseas, which offered some relief from overcrowding. Just as Gavan's expectations of grandeur seemed to be dissolving into the harsh realities of a home office, the University of Melbourne offered ASAP some new accommodation.
ASAP Melbourne now lives in the old Boydex building at 203 Bouverie Street. Despite the seven rooms offered, the space has already been filled by new staff. The opportunity for staff to be in close contact with each other has been invaluable. This space has been dedicated to ASAP for the next 12 months, after which we may again be looking for a home. Bouverie Street has become something of an ASAP precinct, with the Generation Victoria team occupying, to the great envy of the rest of the staff, 158 Bouverie Street, once the Pitman Books Building. This building has been leased for 2 years in order to house the Generation Victoria records in anticipation of their eventual dispersal.
During 1994-95 ASAP had a core staff of around thirteen. Our more secure financial situation meant that for the first time internal infrastructure and support staff were able to be employed, and professional archival staff offered yearly contracts, rather than project-to-project employment. ASAP also employed another 15 staff on a casual or contract basis.
| | |
| --- | --- |
| Andrea Barnes | With a background in science and archives, Andrea is the mainstay of our collections work. She has completed a number of collections, and in the course of supporting the work of the Generation Victoria team has also become our authority on the history and structure of the SECV. Andrea has also been assisting Bronwyn Hewitt one day a week at the Walter and Eliza Hall Institute. |
| Lisa Cianci | Lisa has been taking on a increasingly demanding role as the ASAP Project Support Archivist. She provides technical and archival advice and support to the rest of ASAP, and is in charge of maintaining all our databases and computer resources. She is also responsible for the top-level organisation of collections work and the final production of guides and finding aids. |
| Rosanne Clayton | As the Canberra Archivist, Rosanne works mainly on the collections of individual scientists. She is also responsible for ensuring that we become aware of new and at-risk collections of records with importance to the history of Australian science and technology. |
| Lisa Enright | As a project archivist for the Generation Victoria project, Lisa led our Melbourne processing team with great efficiency. She is continuing Round 2 of the Generation Victoria project as the archivist in charge of drawings and electronic records. Having once expressed, to her immediate and continued dismay, her interest in electronic records, Lisa is now in charge of developing ASAP policy in this area. She is also currently completing a Masters in Archives and Records Management. |
| Joanne Evans | As the leader of our Generation Victoria project, Jo is responsible for the overall management of our work for the power generators. Her background in science, industry and information technologies have all been invaluable in dealing with a project of this size and complexity. Much of the success of this project can be attributed to her management, tact and enthusiasm. |
| Robert Hartland | Robert has taken over as Project Archivist at CSL Broadmeadows and, with other staff consolidated in our new Melbourne offices, is one of our few staff left, as he puts it, on the outskirts of empire. Robert is currently working part-time while completing his Masters in Archives and Records Management. |
| Bronwyn Hewitt | This year saw Bronwyn's on-going work at the Walter and Eliza Hall Institute expand with the appointment of an assistant for her and the provision of a new computer. These will both enhance the excellent work she has been performing for ASAP and WEHI. |
| Gavan McCarthy | It's hard to know how to sum up Gavan's role. As the Chief Archivist, he remains one of the driving forces behind all of the ASAP's work. This year saw his services increasingly called upon within the archival, scientific and industrial communities. Within ASAP he remains an inspiring and encouraging leader whose support is much appreciated by all. |
| Imbi Neeme | Imbi joined us at the beginning of 1995, and as our Office Manager is responsible for the day to day running of ASAP Melbourne, acting as the front line person for all enquiries and organising the rest of the ASAP staff. To Imbi falls the thankless task of establishing internal systems of records management and making sure that we all know what the others are doing. |
| Michelle Novacco | Michelle took on the potentially daunting task of the Morwell Project Archivist for Generation Victoria, a position she filled with great commitment and zeal. Michelle is now acting as the Generation Victoria Round 2 archivist in charge of appraisal and disposal, while reminding everyone that her first degree was in history, and could she please have a collection of her own to work on, one day? |
| Lisa O'Sullivan | In her dual role as the Melbourne Office Manager and Projects Coordinator, Lisa's time this year has mostly been dedicated to the financial planning and human resource management of ASAP's projects. She provides administrative support and policy advice to other staff and acts in a liaison role with clients. |
| Tim Sherratt | While still claiming to be an historian, Tim is now regarded as our computer expert, and has provided both the inspiration and labour for the development of our information resources. His innovative and imaginative approach has been instrumental in helping ASAP develop a highly respected Internet presence. Under his guidance, the ASAP Canberra Office has grown from strength to strength and has ensured that ASAP's focus on the history of Australian science and technology is not lost. |
| Victoria Young | As the Canberra Resource Developer, Victoria has already made invaluable contributions to ASAP's on-line resources. Her original interest in Australian history has been expanded into science and technology areas. |
Other staff:
We are also grateful for the input and enthusiasm of our contract and casual staff. This year saw ASAP moving away from the employment of people in casual positions. Instead, staff have been offered the security of contracts for the terms of their projects. In this way ASAP hopes to build up a core of expertise which we can call upon in the future. As our resources increase, we hope to be able to draw our new core staff from those who have completed contracts with us. Staff who have worked for ASAP over 1994-95:
| | |
| --- | --- |
| Stewart Brash | Completing much of the A. D. Butcher collection, Stewart has now left ASAP in order to pursue a career in journalism. His expertise in environmental history and vast general knowledge are already much missed. |
| Dani Zephyr | Dani acted as the original Project Archivist for our CSL Broadmeadows project. Having taken time off in order to welcome baby Amrita into the world (congratulations!), Dani has returned to work on a casual basis helping ASAP keep on top of all our projects. |
And also:
Rod Buchanan, Trevor Burgess, Daniel Cass, Rodney Catchpole, Val Cook, Clair Dougherty, Milly Fels, David Fowler, Vern Garth, Sally Grant, Geoffrey Gray, Owen Griffiths, David Hudson, Christopher Jack, Eddy Janeczek, Justin Kennedy, Jason McGlone, Johanna Monk, Joanne Mushin, Paula Montesano, Marie Steer, Georgia Stewart, Graeme Tucker.

Last but not least, our thanks must go to Rod Home our director. Rod, as Professor of History and Philosophy of Science at the University of Melbourne and the founder of ASAP, remains a major point of reference for the Project and a source of wise and considered counsel. Rod was away for most of the 1994-95 year but has continued to help ASAP consolidate the gains it made through the year.