Strategic Planning
The innovation and input of staff has always been the driving force behind ASAP's success. To ensure that expansion did not lead to us losing track of our original purpose, ASAP decided to bring all of its core staff together for two days of discussion and planning for ASAP's future. The sessions, held at Hepburn Springs, gave ASAP staff a time to share expertise and experiences, and to re-examine the mission of ASAP in light of its new activities. The feeling amongst staff was that the ASAP brief to provide access to Australia's scientific, medical and technological heritage was still an accurate reflection of our activities, even though these have expanded far beyond the original scope of the Project.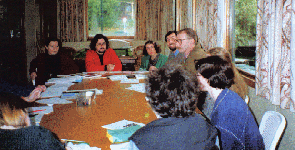 Strategic planning session at Hepburn Springs
The meeting produced a new statement of ASAP's mission, now expressed as a set of objectives all furthering a common aim, and defined the activities and services through which ASAP will reach these objectives.
---
Aim
Objectives
Activities
Work Areas
---
Aim
The Australian Science Archives Project's aim is to improve access to Australia's scientific, medical and technological heritage by helping to preserve records and artefacts and by communicating the existence of this heritage to a wide audience.
---
Objectives
Identification and Preservation
ASAP aims to play an active role in identifying and ensuring the preservation of records and artefacts of historical value that add to our understanding of the history of Australian science, medicine and technology.
Documentation
ASAP provides professional archival, historical and records management services for both individual clients and the wider community to ensure that records significant to our scientific heritage are appropriately managed and documented.
Communication
ASAP communicates the significance of Australia's scientific, medical and technological heritage to both the general and research communities in Australia, and to an international audience. ASAP also promotes the importance of sound records management and archival practice to scientists and technologists in order to further their understanding of the importance of safeguarding their own records.
Participation
ASAP works to encourage co-operative links between heritage institutions with the aim of fostering understanding, interaction and the development of shared goals. ASAP also seeks to develop relationships with related bodies internationally, both in order to ensure that our work meshes with similar work being done overseas and to assist the professional development of our staff.
---
Activities
Information Services
ASAP provides its clients - scientists, archivists, historians and related professionals - with guidance and support in dealing with the records of science and technology. Through its resources on the World Wide Web, ASAP provides access to all the information it has collected regarding the history of Australian science and technology. ASAP has a commitment to continuing development of the Register of the Archives of Science in Australia (RASA) which forms the backbone of its information resources.
Professional services
ASAP aims to provide consultancy and professional advice of the highest quality, through the establishment of first-class work and product standards.
Research and Development
ASAP is committed to continuing research and development of its services, including its information and technical resources. In doing so, ASAP continually questions and redefines the nature of records, archival practice, and the relationship of both these to science.
Development of Expertise
ASAP is committed to maintaining a responsive and versatile work environment through a supportive and cooperative approach to its activities. Individual staff members are encouraged to work towards securing the future of the project while enhancing their own professional skills and developing new directions for themselves and the Project.
---
Work Areas
Collections
Archival and historical work on collections of records of individual scientists and of scientific, technical and medical societies. The need for such work provided the impetus for ASAP's inception. It remains one of ASAP's central activities and the basis for its contribution to documenting and preserving Australia's scientific and technological heritage.
Consultancies
Professional advice and project management in archives, records management and information services to science and technology based organisations. This generally takes the form of programme planning, provision of software, and advice and support for clients. An example of this type of project would be the Hazelwood Power Corporation archives and records management project.
Contracts
Contracted work incorporating project planning, management and implementation by ASAP professional staff for clients in the science and technology fields. Contracts are normally undertaken by ASAP in order to provide clients with methods of managing large backlogs of uncontrolled records, but may also include the construction of on-going records systems. Projects of this nature have been completed for Roche Pty Ltd, Morwell Mine and Southern Hydro, and ASAP continues to be engaged by Generation Victoria to manage its records.
Information Services
The provision of information about the history of Australian science and technology including the publication of the History of Australian Science Newsletter and the development of electronic resources on the Internet including the provision of electronic publishing services to clients such as the Australian Academy of Science, ANZAAS and the Australian Science Teachers Association.
Continuing Projects
Archival and records management services to scientific, technical and medical institutions on a continuing basis. ASAP is currently engaged by the Walter and Eliza Hall Institute for Medical Research and CSL Ltd Plasma Products Facility on this basis.
Research & Development
Continued research and development in the archival, history, and information resources areas, including the enhancement of Bright SPARCS, an on-line biographical database of Australian scientists, and education and outreach programmes to the scientific, school and general communities.