Introduction
This year has been an extremely important one for ASAP. In our 10th anniversary year we have developed new directions for the project, found a new home for ASAP Melbourne, and experienced significant growth and development within the organisation and unprecedented demand for our services. All of this while re-confirming in our own minds the importance of our original brief to preserve and make accessible Australia's scientific and technological heritage.

ASAP has expanded rapidly this year, and has established a core of professional staff who are developing expertise in the specific areas of concern to the Project. ASAP remains committed to staff input into the directions we take, and this year saw our 13 core staff attend our first strategic planning sessions. Our tenth birthday provided another excellent excuse to bring together our friends and supporters to celebrate our on-going success.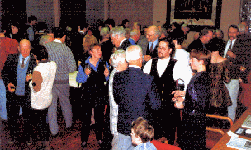 ASAP staff and friends celebrate
the project's 10th anniversary
The Canberra office has become our information connection to the world. Tim Sherratt's expertise in the development of on-line resources has seen him in demand from a number of professional scientific bodies seeking to increase their own on-line presence. The value of having a strong presence on the Internet has become increasingly clear, and our on-line services continue to lead the world in the provision of information on the history of science and technology.
At ASAP Melbourne, the focus of the year has been power. Brown coal, boilers, dredgers and hard hats have all become a large part of our lives as we complete a variety of archival and records management projects for sections of the power generation industry in Victoria. These projects have made us aware of the skills we can offer to the commercial world, and enabled the rapid development of our products. Our move to new premises has allowed us to consolidate our staff and to implement new internal systems of organisation. With the increase in staff numbers, the establishment of strong administrative support has become vital to the Project.
With ASAP not only maintaining its level of performance but expanding its areas of expertise and interest, our 10th year has felt like the one in which we came into our own. We look forward with confidence to our next decade of service to the Australian community.