No. 35, December 1995 ISSN 0811-4757

Edited and published by Tim Sherratt (Tim.Sherratt@asap.unimelb.edu.au) for ASAP.
---

Reading Heads and Ruling Passions: an exhibition on phrenology
Robert White, a phrenologist in New South Wales in the early 1900s. Photo courtesy of Sheryl Morgan and the Macleay Museum News.

Phrenology - the idea that a person's character could be read from the shape of his or her head - is the subject of the Sydney Macleay Museum's current exhibition, Reading Heads & Ruling Passions. The exhibition brings together a rich variety of early books, phrenological busts, readings and illustrations, to explore the rise of phrenology in the early 19th century and its spread to America and Australia.

Phrenology is often regarded as a branch of charlatanism, beneath the dignity of serious investigation. The exhibition shows that the rise of phrenology was closely related to changing social conditions in the 19th century.

Phrenology was criticised by religious conservatives for atheism, materialism and fatalism. With its emphasis on individual differences and innate talents (or defects), phrenology was associated with movements for reform in education, penal conditions and other social concerns.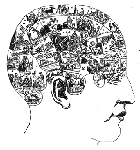 The role of phrenology in Australia is reflected in the exhibition through several local phrenological readings and publications. Two deathmasks prepared by the sculptor and phrenologist Walter McGill are a ghoulish reminder of the fate of the bushrangers Captain Moonlite and Thomas Rogan who were hanged at Darlinghurst Gaol in 1880.

Reading Heads & Ruling Passions has been developed with the participation of a group of History and Philosophy of Science students around a major collection of early books on phrenology acquired last year by the University Library's Rare Book department. The exhibition opened on 1 March and will run until 30 November 1995.

- extracted from the Macleay Museum News, No. 5, March 1995.
---
[ Contents | Previous article | Next article | HAST | ASAPWeb ]