HMM Newsletter - Number 10, March 1996 ISSN 1036-3041
HMM IN TASMANIA
The Royal Hobart Hospital Graduate Nurse's Museum has been relocated within the hospital and its continuing existence has been guaranteed. The volunteer group of nursing sisters who have collected and established this museum have had some anxious months but are now re-establishing themselves. Their museum was featured at the 1993 CAMA Conference and it is good that they have maintained their enthusiasm.
At the Australian Medical Association (AMA) headquarters in Hobart Philip Thomson continues to accumulate medical history memorabilia and books. Philip is hoping to obtain a grant to employ an appropriate person to catalogue and organise storage of this collection.
The Tasmanian Museum and Art Gallery has been asked to set up medical history displays at two medical conferences to be held this year in Hobart. The organising committees will pay for this service, with the funds thus earned hopefully being directed towards adequate curatorial care of the museum's medical history collection. It is hoped that in future further income can be generated by the museum offering its expertise and collection to interested bodies.
The indefatigable Philip Thomson has been invited to speak at a number of schools and community groups about medical history topics. This follows his overseas trip last year when he was able to visit thirty medical history museums (see article elsewhere in this newsletter) and get lots of ideas about presenting medical history in an exciting and informative way to interested groups. He uses such techniques as dressing up in Victorian garb, and using appropriate instruments to operate on volunteers from the audience with no anaesthesia or antiseptic technique. He borrows modern operating theatre clothing and disposable gear to then dress up more audience volunteers for a modern operation to demonstrate the contrast with surgery of the 19th century.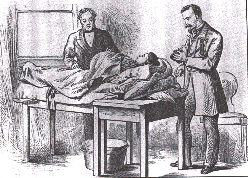 Abdominal surgery to remove diseased ovarian tissue (ovariotomy). Surgeon and anaesthesiologist in street clothes. From Thomas Spencer Wells, Diseases of the Ovaries, 1872
---
Published by the Australian Science Archives Project on ASAPWeb, 12 June 1996
Prepared by: Lisa Cianci and Lisa O'Sullivan
Updated by: Elissa Tenkate
Date modified: 18 September 1997
---
[ Top of page | HMM Home Page | HMM Newsletter Contents | ASAPWeb ]