HMM Newsletter - Number 10, March 1996 ISSN 1036-3041
GOING, GOING, GONE?
When HMM was formed in 1990, one of the main concerns at the time was the number of historical medical collections around Australia whose futures were threatened by the closure of hospitals. Things have not improved, and there are still important collections facing homelessness.
1
SPASM (NSW)
One of the largest historical medical collections in NSW is managed by a voluntary group delighting in the name of SPASM (Society for the Preservation of Artifacts in Surgery and Medicine). The collection is currently housed in one of the old buildings in the grounds of Lidcombe Hospital in Sydney's west, but as Judith Cornell explains, these premises are about to be lost. Judith is Executive Director of the New South Wales College of Nursing and a member of the Management Committee of SPASM.
The fate of the SPASM collection is a matter of concern to the Management Committee as we have been given advice that all services to the Lidcombe Hospital Campus will cease by 31 March 1996. Lidcombe has been amalgamated with the Bankstown Hospital Service and all services will be delivered from the new Bankstown Hospital.
For some time negotiations have been occurring for a 'new home', however to date no alternative has been identified. It would seem likely that the collection will have to be packed up and put into storage until firm arrangements can be made.
The collection contains many items of furniture, instruments and anaesthetic equipment pertaining to patient care. In addition, there are records and catalogues that provide insights into the way in which medical and nursing care was delivered from before the turn of the century.
Further information may be obtained from Dr Ross Holland (045) 67 7482 or Mrs Judith Cornell (02) 660 7100 (8.30 am - 5.00 pm).
Judith Cornell
2
ROYAL HOSPITAL FOR WOMEN, PADDINGTON (NSW)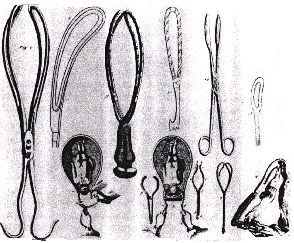 In around twelve months from now the Royal Hospital for Women will be closed and its operations moved to the Prince of Wales Hospital at Randwick. This will leave the hospital's historical collection of obstetric and gynaecological artefacts without a place to be stored or displayed. Custodians of the Royal Women's collection and SPASM have been holding discussions with the Southeast Area Health Service of the NSW Department of Health over the possible establishment of a centrally located medical museum.
Obstetrical forceps. Eighteenth century, French
3
FAIRFIELD HOSPITAL (VICTORIA)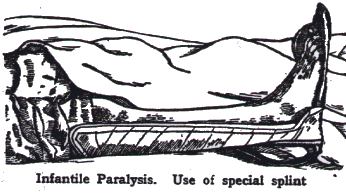 Fairfield Hospital is being closed on 30 June 1996. As this newsletter goes to press there has been no word on what will happen to the historic collection and archives managed by the Fairfield Hospital Historical Committee.
Incidentally, HMM members and friends have the opportunity to visit Fairfield Hospital for an illustrated talk on the History of Polio on Thursday 2 May. See notice with details elsewhere in this newsletter.
---
Published by the Australian Science Archives Project on ASAPWeb, 12 June 1996
Prepared by: Lisa Cianci and Lisa O'Sullivan
Updated by: Elissa Tenkate
Date modified: 18 September 1997
---
[ Top of page | HMM Home Page | HMM Newsletter Contents | ASAPWeb ]