HMM Newsletter - Number 10, March 1996 ISSN 1036-3041
HMM (NSW) PROGRAM OF MEETINGS FOR 1996
Saturday April 20
Taking precautions.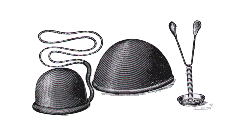 Talk on the history of birth control by Dr Ian Cope of the Royal Hospital for Women, and viewing of the exhibition Taking precautions: the story of contraception. Powerhouse Museum, Harris Street, Ultimo, Sydney. 2 - 5 pm.


Saturday July 13
Preparing a display.
Workshop on putting together exhibitions and displays, for small museums on a limited budget. NSW College of Nursing, Hereford Street, Glebe. 10 am - 4 pm.
Wednesday 30 October
Managing a medical museum in the 90s.
Half-day seminar in conjunction with the Museums Australia National Conference. 2 - 5 pm at a venue to be announced, followed by a social gathering. See notice calling for papers elsewhere in this newsletter.
Saturday 7 December
End-of-year event.
The details of the HMM (NSW) traditional end-of-year talk, tour, and social gathering have yet to be finalised. It will be in the afternoon, and following the success of last year's event it will once again be held in conjunction with the New South Wales Society of the History of Medicine.
HMM members and all interested persons welcome
For more information and confirmation of dates, please contact Megan Hicks
Tel. 02 217 0254
Fax 02 217 0355
---
Published by the Australian Science Archives Project on ASAPWeb, 12 June 1996
Prepared by: Lisa Cianci and Lisa O'Sullivan
Updated by: Elissa Tenkate
Date modified: 18 September 1997
---
[ Top of page | HMM Home Page | HMM Newsletter Contents | ASAPWeb ]